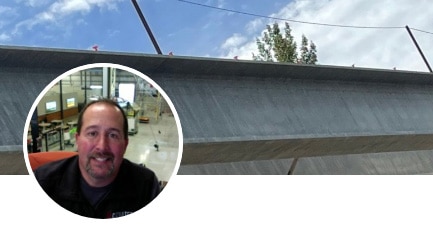 Come join us for our 2023 GRIP Safety Advisory Committee* meeting in January and learn from guest speaker Kevin Denis, owner of Work-at-Heights (WAH). The mission of WAH is to provide education, consultation and resources to men and women dedicated to protecting their workers at height. WAH has three decades of experience in industrial, telecommunication, utility, aerospace, construction, maritime, military, manufacturing, agriculture, theater, entertainment, and government work at height applications. Kevin Denis is the owner, and his experience has led to the creation of WAH, a concierge service where fall protection professionals can develop their knowledge base, save time and money and continue to protect their people.
Kevin has worked with several major fall-protection and rescue-equipment manufacturers and hundreds of organizations developing and delivering fall-protection education events for end-users, distributors and safety professionals. He has spent a career making fall protection understandable and delivering high-quality, engaging training events. Kevin has conducted training or consulted for several occupational health and safety regulators including the Occupational Health and Safety Administration, Tennessee OSHA, Washington State Department of Occupational Safety and Health, United States Army Corps of Engineers, Oregon Occupational Safety and Health Division, and several consultation service providers or non-profit safety organizations.
Kevin is an active member of the ANSI Z359 Fall Protection Committee and is the current chairperson of the subcommittee that manages ANSI / ASSP Z359.2, the Minimum Requirements for a Comprehensive Managed Fall Protection Program. Kevin is the past subcommittee chair of Z359.15 and Z359.7 and remains an active member of several other subcommittees for the Fall Protection Code.
Protecting workers and employers from catastrophic, life-changing falls is the goal, and having the right information, resources and skills is needed to get there. WAH takes a unique approach to fall protection training and has introduced a first-of-its-kind, continuing education program for fall protection professionals. Knowledge and skills, exercised frequently, do not expire and similar to engineering or medical licenses and certifications, the WAH Continuing Education Program provides avenues for fall protection professionals to remain current. 
Learn more about Kevin Denis on LinkedIn.
GRIP Safety Advisory Committee Meeting
January 25, 2023, 10:00 AM
*The GRIP Safety Advisory Committee is a group that meets quarterly to encourage, promote, learn, and share best practices to help improve safety performance and reduce risk. The group includes, general, sub and specialty contractors in roles ranging from business owners and human resources to safety professionals and office administrators. The goal is to provide a place where everyone can learn and grow to prevent injuries.